The Joe W. and Dorothy Dorsett Brown Foundation Excellence Award
Excellence Award Nomination Information
The Joe W. and Dorothy Dorsett Brown Foundation launched an exciting program in 2019 where we seek to recognize and honor those individuals that have far exceeded reasonable expectations in furthering a charitable purpose consistently over the course of many years. The Excellence Award is issued to those individuals who are pillars of their community, lead by example, make a measurable impact, and have establish or operate a charity at an elite level. Winners of our Excellence Award have shown such dedication, perseverance, and sophistication in running their charity that they have become synonymous with the organization they lead. Winners of this award receive a plaque and the qualified charity or research center they are most closely affiliated with receives a $15,000 in general support grant to further their mission. We envision issuing three (3) excellence awards per year.
To qualify to win an Excellence Award, a person must either be a founder, employee, or volunteer of a generally well regarded and qualified exempt organization. A person must be living to be considered for an Excellence Award. We will not issue an award posthumously. Though this award is primarily designated for individuals who are charitably active in Louisiana, we will under some circumstances consider individuals active along the gulf coast.
If you know of an individual who you believe should be considered to receive an Excellence Award, you are welcome to nominate them for our consideration. There is no strict deadline for when you should send in this information and we will keep all recommendations on file for five years. You can send your recommendation to us through USPS Mail (we will not consider a recommendation through email and may not open or see the email). You should identify the person you are recommending by their full name, provide their mailing address if you know it, and identify the exempt organization they are affiliated with while providing a summary on why you believe they should be considered (this summary should not exceed three pages).
Privacy Policy: All information gathered will be limited to the purposes of this award. The Joe W. and Dorothy Dorsett Brown Foundation does not provide any personal information to outside organizations or entities except as may be required by law or to evaluate nominations. .
Previous Award Winners
Jacqueline Green, Executive Director of Calcasieu Parish Council on Aging, Inc.
The Humanitarian Award for Southwest Louisiana issued in December 2022
Response to the effects of Hurricane Laura, Hurricane Delta and historic flooding in Southwest Louisiana during 2020 and 2021 required a mobilization of resources not seen in many years. The elderly, frequently in a weaker position than other segments of communities during times of crisis, can feel isolated. The Calcasieu Parish Council of Aging delivered hot meals and critical supplies during the severe events. Efforts were recognized by many as exemplary. Leadership during the ongoing crisis was extraordinary. Communities need leaders that recognize recovery from a devastating natural disaster is a marathon and not a sprint.
With the above in mind, the Foundation proudly issued The Humanitarian Award for Southwest Louisiana to Jacqueline Green, Executive Director of the Calcasieu Parish Council of Aging. A $15,000 general support grant was issued to the Calcasieu Council of Aging to further their dedicated efforts of improving the lives of individuals aged sixty and above, in Calcasieu, Allen and Jefferson Davis Parishes.
Jeray Jambon Jarreau, Executive Director of Bless Your Heart
The Humanitarian Award for Southeast Louisiana issued in December 2022
Jeray Jambon Jarreau is a practicing attorney who also volunteers as Executive Director to Bless Your Heart, a non-profit located in Larose, Louisiana. Bless Your Heart aims to enrich lives and inspire hope by addressing social, educational, and financial needs in the Bayou Region; to build a community where no family feels alone and gets every possible help they need as soon as possible.
Under the leadership of Jeray Jarreau, Bless Your Heart stepped up to the challenge after Hurricane Ida ravaged the region. Thousands of residents in Central and South Lafourche were served food, clothing and shelter. Impact was tremendous and efforts to raise, receive, store, and disburse crucial supplies and direct monetary donations from across the country were exemplary. With great pleasure, the Foundation issued The Humanitarian Award for Southeast Louisiana to Jeray Jambon Jarreau, Executive Director of Bless Your Heart. A $15,000 general support grant was issued to Bless Your Heart, for the organization's charitable efforts. Pictured below is Ms. Jarreau accepting her Excellence Award and Bless Your Heart's grant check from Jennifer Armand, Executive Director of the Bayou Community Foundation.
Anita Hall Barker, Founder and CEO of Girlie Girls Mentoring Program
The Human Services Excellence Award issued January 2022
With great pleasure, the Brown Foundation awarded Anita Hall Barker with The Human Services Excellence Award in January 2022 for her dedication to building academic and social excellence in young ladies ages 12-18. Making a difference in the lives of these girls is her passion and her impact has been recognized in several mentorship/community service awards in the Lake Charles, Louisiana region. The Girlie Girls Mentoring Program, the non-profit Ms. Barker founded, works through and currently leads received a $15,000 general support grant from the Brown Foundation to further their efforts. Girlie Girls aims to empower each young lady to achieve her full potential in becoming an influential member of the community. Ms. Barker believes female youth need positive role models, they need their mothers to mother them - not be their friend. As a mentor, Barker said she'll do whatever it takes to prevent rash, life altering decisions that can have a lifelong negative impact on themselves and others. She meets her mentees in their struggles, helps them work through whatever they are facing, and tries to give them the right tools to make good choices going forward. Her consistent advice for youth? "Surround yourself with positive people," "Always make the right choices," "Choose your friends wisely" and "One bad choice can change your life forever."
Leaders In Law Enforcement Awards issued in August 2022
The Joe W. & Dorothy Dorsett Brown Foundation conceptualized, developed, and structured the highly competitive Leaders In Law program which has been held in Lafayette, Louisiana for each of the past three years. Leaders In Law is under our Excellence Award Program though it has different protocols. The Foundation works closely with our charitable partners at the Community Foundation of Acadiana each year in developing the annual criteria for the program, selecting the independent expert judge panel, and promoting the event. The number of applicants, quality of the programs, and breadth of the impact from Leaders In Law continues to grow year over year. In 2023, the program will award $40,000 to each of the three first place winners. Our 2022 winners and their phenomenal projects for which they were awarded such recognition were as follows:
Caddo Parish DA's Office
The 1st Judicial District Attorney's Office of Caddo Parish is recognized for its Exit Strategy Program, a diversion program aimed at curtailing sex trafficking which resonates from the I-49 corridor. According to the FBI, most Caddo Parish sex trafficking arrests happen when victims are being transported to Dallas, Atlanta, and beyond. The Caddo Parish DA's Office recognizes that sex trafficking is a threat to both children and adults in the community. Trafficking victims face a myriad of physical and mental health issues, homelessness, and criminal charges.
Trafficking victims are often forced into prostitution to provide income for their traffickers or to provide for themselves if they have escaped their traffickers. Through a life of prostitution, the victims face arrest, prosecution, jail time, and fines, which all add to their criminal history. This criminal history creates barriers to educational programs and jobs that pay a living wage. In response to the human trafficking crisis, the Caddo Parish DA's office partnered with HUB Ministry. This partnership enables women who are facing criminal charges of prostitution to enter the Exit Strategy diversion program. Exit Strategy is a life skills and wellness program where those women can gain access to resources that lead to full recovery and restoration. Exit Strategy offers both a non- residential and residential program. Once participants complete either the non- residential or residential program, the Caddo Parish DA's office dismisses the participant's criminal charges. Remarkably, none of the Exit Strategy participants have re-offended. Just a few success stories include a licensed realtor, a medical assistant, and the owner of a cleaning business.
The Caddo Parish DA's Office also works to rehabilitate "Johns" – those who solicit sex trafficking victims who are working as prostitutes. The offenders learn about the devastating impact of human trafficking and its consequences on the community and individuals. Once the offenders successfully complete the John School, The DA's office dismisses their charges of promoting prostitution.
The Caddo Parish DA's Office also provides diversion for youthful offenders who are sex-trafficking victims. S.T.A.R (Succeeding Through Achievement and Resiliency) Court provides interventions for delinquent youth who are victims of sex trafficking. Once S.T.A.R Court youthful offenders complete their programs, the district attorney closes their case.
The Caddo DA's office has developed and expanded programs to help sex trafficking victims lead healthy, productive lives. These diversion initiatives allow participants to gain access to resources that lead to full recovery and restoration while ending the revolving door into the criminal justice system.
Concordia Parish Sheriff's Office
The Concordia Parish Sheriff's Office (CPSO) was recognized for the implementation and effectiveness of its Cyber Crime Unit. This special unit was formed to address the rising number of child pornography and cyber enticement cases in the community. In August 2020, the Concordia Parish Sheriff's Office created the Cyber Crime Unit to enhance investigative response combatting predators using the internet and online communication to sexually exploit juveniles. A specially trained lead investigator and two support investigators were brought together to form the Cyber Crime Unit.
To properly equip this new team, Sheriff Hedrick purchased Oxygen Forensics mobile extraction software and The GrayKey, a state-of-the-art forensic access tool that extracts encrypted or inaccessible data from mobile devices and computers. The Cyber Crime Unit has one of only a few GrayKey products in the state of Louisiana. In July 2021, the CPSO launched a smartphone application to give users the ability to submit tips anonymously. This app has had such tremendous success with multiple sex crimes reported and thus solved through submissions.
It is not unusual for the Cyber Crime Unit investigators to spend up to 600 hours per case reviewing messages, call logs, and photos from multiple types of digital media, including computers, cell phones, and tablets. They sift through volumes of dark material that no one should be subjected to. This takes a significant emotional toll on the investigators. They obtain warrants, conduct interviews, and affect arrests. Their motivation comes from seeing the end result of getting victims out of damaging and dangerous situations, providing justice for families who have lost loved ones, and getting sex offenders off the streets.
A Victims Advocate was added to the CPSO staff to work closely with the Cyber Crime Unit to enhance communication with juveniles involved in sex crimes and victims of domestic violence. The Victims Advocate brings a sensitive approach to supporting and interviewing traumatized victims and offers suggestions to the investigators on how to approach juvenile victims so they feel safe and comfortable telling their stories.
The success of the Cyber Crime Unit has been tremendous in just two short years. Investigators have worked over 291 cases, and all have been resolved. The accomplishments of this team have greatly impacted the Concordia Parish community as well as communities throughout the state by identifying multiple child predators and obtaining help and assistance for their victims.
Louisiana State Police Troop D
Louisiana State Police Troop D was recognized for continuing to meet adversity with resiliency and its willingness to go beyond the call of duty. The legacy of Troop D strives for 100% compliance because public trust is essential, not incidental, to the functioning of the organization. Over the past few years, in addition to the pandemic, Troop D has been challenged with numerous extraordinary weather-related events, yet the troop has continued to remain steadfast.
During the calamity of Hurricane Laura, troopers, both on and off duty, accepted the challenge to serve the community, reinforcing the troop's commitment to excellence by supporting area organizations both in and out of their immediate area. While continuing to reinforce the Highway Regulatory Act, troopers took time to share supplies and provide assistance where needed. In the months following the storm, troopers continued to provide food and supplies to affected families through the Meals on Wheels program. The following year, when Troop C's region was ravaged by Hurricane Ida, Troop D headed east to assist their fellow troopers in need. They helped with patrols, meal preparation, and assisting families struggling in the aftermath of Hurricane Ida.
Troop D again stepped up when they stepped out of Louisiana to help residents of Orange, Texas, during a heavy rainstorm that left their neighbors to the west flooded inside their homes. Troopers traveled by foot and worked tirelessly to ensure multiple families were rescued from the rising waters that would have likely taken the lives of many if not for the swift action of troopers. Following the rescues, troopers gathered essential medicine and equipment for many of the residents.
Each year, Troop D holds the Steven Vincent Memorial Team 5k event to remember the life of Senior Trooper Steven Vincent, who was tragically killed in the line of duty in 2015. The goal of the event is three-fold: to raise money to provide level 4 vests for each trooper, to support Trooper Charities which aids terminally and chronically ill children, and provide programs where troopers help to sponsor and coordinate fishing trips and youth hunting trips benefitting underprivileged and inner-city youth.
Furthermore, Troop D participates in numerous community engagement projects, including a partnership with Axiall (formerly PPG Industries), in which they host an annual Skills for Life Camp geared toward school-aged students in grades 6-8. Since 1998, over 700 middle school students have attended the camp, where they spend one week during the summer learning various practical skills and life lessons as they are mentored by troopers. This is a great opportunity for troopers to interact with the campers and positively influence them, even saving some from a life of crime. Troop D firmly believes they are only as strong as the community they serve.
Minister Ellen N. Nora, Executive Director of Solomon House
The Hope Against Hunger Excellence Award issued November 2021
The Foundation was deeply honored to issue its second annual Hope Against Hunger Excellent Award to Minister Ellen N. Nora for her dedicated work as the executive director of Solomon House in New Iberia, Louisiana. Solomon House received a $15,000 general support grant. Solomon House is a non-profit outreach mission of the Episcopal Church of the Epiphany. Located on Center Street in the heart of New Iberia, Solomon House's primary function is to serve as a food pantry for residents of New Iberia who are at or below the poverty line. Free groceries are distributed by volunteers every Tuesday morning to approximately 120 families who have registered with Solomon House. Clients of Solomon House must register annually and provide identification and proof of income.
Thanks to the dedicated work of Minister Ellen N. Nora, many community partners donate food items to Solomon House, including Walmart, Raising Cane's, Starbucks, Big Lots, Dare to Care, US Postal Service Food Drive, and the Food Net Food Drive. A typical family will receive at least three bags of groceries each week. Food items may include bread, beans, rice, sweet potatoes, bottled water and pastries, along with a variety of canned goods. As the primary food pantry in Iberia Parish, Solomon House is also able to share food with St. Francis Diner in New Iberia, Our Lady of Victory Food Pantry in Loreauville, and St. Nicholas Food Pantry in Lydia. Last year over $200,000 in groceries were distributed to Iberia Parish families. All of these food items were donated, and nothing goes to waste! Aside from supporting other food pantries, Solomon House donates perishable items such as stale bread to St. Francis Diner in order to feed the pigs that they raise. Even the grocery bags that are used are donated and recycled!
In addition to serving as a food pantry, Solomon House is able to provide some emergency assistance. Families needing help with medical expenses, transportation costs, housing and utilities, school and household supplies or emergency disaster relief are able to apply for aid up to four times per year. The average amount given to help a family is $50. At Christmas time, Solomon House hosts holiday events for the elderly and youth of the parish and distributes educational gifts and basic necessities. Solomon House has also been able to distribute books to children in the community as well as needed school supplies.
Kim Boudreaux, Executive Director of Catholic Charities of Acadiana
Calm After the Storm Excellence Award issued September 2021
The Foundation is deeply honored to announce the winner of our inaugural Calm After the Storm Excellence Award issued on November 30, 2021 was Kim Boudreaux, Executive Director of Catholic Charities of Acadiana in Lafayette, Louisiana. A $15,000 general support grant was issued to Catholic Charities of Acadiana. This organization is now the official disaster response agency for the Diocese of Lafayette. It cares for the sacred gift of all human life, especially the most vulnerable. These values define this organizations culture and guide their hard work. By embodying these virtues Catholic Charities continues to be aligned with Catholic Social Justice Teachings and capture the unique spirit in which they operate. As Executive Director, Ms. Boudreaux heads up the Acadiana Voluntary Organizations Active in Disaster - AVOAD - and fosters efficient, streamlined service delivery to people affected by disaster, while eliminating unnecessary duplication of effort through cooperation, communication, coordination and collaboration in the four phases of disaster - preparation, response, recovery, and mitigation. Pictured is Ms. Boudreaux being presented with the award by Brown Foundation representative Becky Hunter and her husband, Lake Charles mayor, Nic Hunter.
Ascension Parish Sheriff's Office
17th Judicial District Attorney's Office of Lafourche Parish
Louisiana State Police Troop C
Leaders in Law Enforcement Awards issued in November 2021
We were so pleased to partner with the Community Foundation of Acadiana on the second annual Leaders in Law Enforcement Awards, which is part of our excellence award program. After an incredibly competitive grant review process where several dozen law enforcement agencies presented their various programs to our expert judge panel, the 2021 Honorees were:
Ascension Parish Sheriff's Office
17th Judicial District Attorney's Office of Lafourche Parish
Louisiana State Police Troop C
The event was held on Tuesday, November 30, 2021 in Lafayette, Louisiana. The keynote speaker for the event was Donald W. Washington , Former Director U.S. Marshals Service and Former U.S. Attorney, Western District of Louisiana (pictured below.
The Ascension Parish Sheriff's Office was recognized for successfully creating a safe space and fun atmosphere where deputies can interact daily with kids in the community. In 2017, the Ascension Parish Sheriff's Office opened a one-of-a-kind community center and park which is strictly serviced and maintained by the Ascension Parish Sheriff's Office. The Hickley M. Waguespack Center and Park, named after a sheriff who went to great lengths to modernize the sheriff's office during the Civil Rights Movement to be more inclusive, provides an outlet for children and residents of Donaldsonville and West Ascension to interact with deputies in a positive way. The driving force behind the project was due to the sheriff's office responding to incidents of violent crime in the area over the past several years. Since opening, crime in the area has decreased in a tremendous way, and children, as well as adults, now have a safe space to play, do homework, and interact with a deputy in a positive way.
The Ascension Parish Sheriff's Office is committed to community policing at the highest levels by not just policing the parish and attending various community events, but embedding themselves in the community they serve and protect by providing computers, internet access, an abundance of age-appropriate books, and partnerships with libraries, schools and other community organizations monthly. The Waguespack Center is staffed by a 20-year veteran deputy, a retired Major, a retired Captain, and a groundskeeper. The future for the Waguespack Center and Park includes the addition of an early childhood development center which will allow the Ascension Sheriff's Office to be a part of the solution in making a significant impact on scholastic success and helping improve social responsibility, socioeconomic status, lower crime rates, all while providing a positive impact on community policing.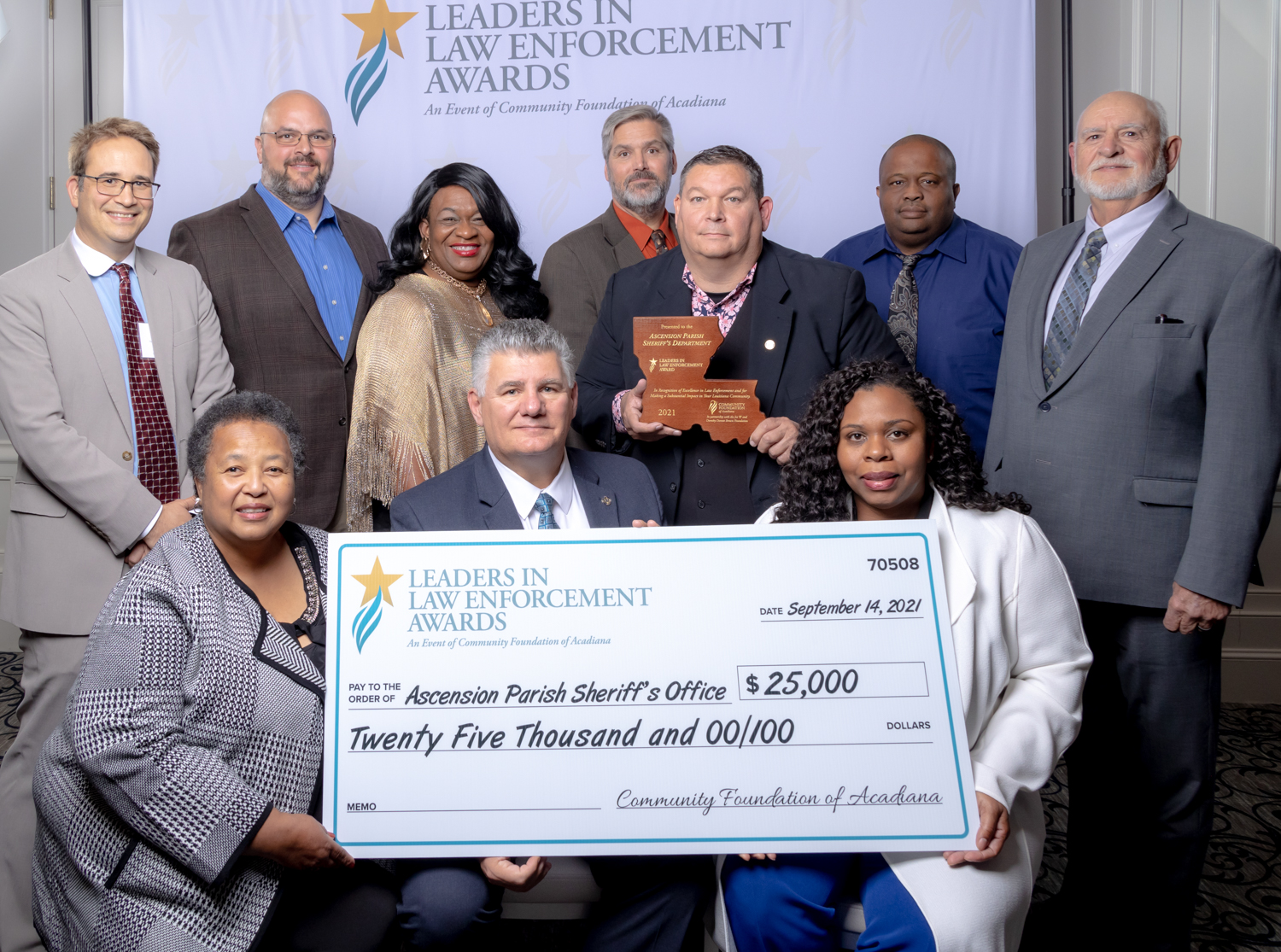 District Attorney Kristine Russell, Lafourche Parish 17th Judicial District. The 17th Judicial District Attorney's Office of Lafourche Parish was recognized for its RESPECT U Program which was launched in 2018. RESPECT U was established after studying the underlying causes of habitual criminal activity. RESPECT U is an umbrella program incorporated into existing school programs that focuses on self-respect, respect for others, and respect for the community at large. Community support was garnered through the distribution of yard signs and stickers, a promotional video including local students, campaigns via press releases and social media, and engaging community stakeholders. A few of the age-specific programs include: Introduction to Respect which begins in 4th grade, PEP Talk which is a gender-specific program for middle schoolers focusing on self-esteem for girls and conflict resolution for boys, and Domino Effect and Wobble Goggles for high schoolers which focuses on the dangers of distracted and impaired driving.
The Lafourche Parish DA's office also values the senior citizens in its community and hosts Senior Sources events throughout the parish. Through a partnership with the Clerk of Court and the parish Assessor, these educational seminars serve to educate seniors who are often seen as easy targets for scammers thus becoming victims of crime. The partnered agencies discuss resources available to the seniors and the easiest way to access these resources. Additionally, as part of its Victims' Rights Department, the Lafourche Parish DA's Office has a licensed clinical social worker who, on a daily basis, identifies victims who need to be contacted immediately. This personal contact with the victim is one of the most important steps in building trust, not only with the DA's office but within the criminal justice system.
Louisiana State Police Troop C was recognized for a myriad of developments and community partnerships implemented in their region which have drastically improved road safety and reduced the accidental death rate in their region. Originating out of Troop C, the TrafficStat Program was developed to reduce crashes, thus reducing injuries and fatalities. With research, Troop C was able to focus enforcement efforts in the areas, days, and times crashes were happening by targeting specific violations. TrafficStat was so successful that it was written into State Police Policy for every Troop to utilize. "Zero for the Holidays", one of TrafficStat's programs, partners with local law enforcement agencies, DA's Offices and media outlets to bring awareness to safe and sober driving during the holiday season. Through a partnership with the South Central Safety Coalition, Troop C was able to design, build and maintain a mobile Breath Alcohol Testing Bus making them the only troop in the state to have such a bus. Troop C has also launched enforcement and awareness campaigns which have brought positive results. "Specialized Enforcement Details" targets areas and violations common to crashes resulting in an average of 1,735 citations per year. This combined with an awareness campaign that includes presentations in schools, businesses, and professional organizations has resulted in a 40% increase in DWI arrests and seatbelt citations and a 37% reduction in deaths.
Troop C was the first troop to provide a Bereavement Package to victim's families which includes useful information including legal paperwork, guidance, and information on local District Attorney's Offices to assist families through the victim's rights process. Continuing education remains paramount to Troop C's mission, and they are proud to bolster the highest number of troopers and supervisors who have passed the difficult 10-week crash reconstruction series of classes offered through Northwestern University's Center for Public Safety.
Arthur J. Johnson, Chief Executive Officer of Lower 9th Ward Center for Sustainable Engagement & Development
The Environmental Impact Award issued July 2021
On July 30, 2021, the Joe W. & Dorothy Dorsett Brown Foundation issued its second annual Environmental Impact Award to Arthur Johnson, the chief executive officer of the Lower 9th Ward CSED. The Brown Foundation's Environmental Impact Award recognizes organizations and individuals who have not only made an impact on the valuable environment of Louisiana but have also educated youth in the region about this topic. The inaugural award was presented to Pontchartrain Conservancy Executive Director Kristi Trail in 2020. Founded in 2006, the Lower 9th Ward CSED focuses on coastal rehabilitation, greening the built environment and increasing food security by lifting up and strategically reinforcing community-driven goals to create an economically, culturally and environmentally sustainable Lower 9th Ward. The organization's work includes, but is not limited to, aiding homeowners with energy-saving improvements, providing access to low-cost materials, helping residents clean, restore and paint their houses, reducing blight in the neighborhood, building rain gardens to manage storm-water runoff and providing information on creating a safe, independent and more resilient community for the future. The Foundation is deeply honored to issue a grant in the amount of $15,000 to the Lower 9th Ward CSED as part of the Environmental Impact Award.
Artie Carhee Kickman, Ministry Director of Soul Soup at Grace Church of DeRidder, Louisiana
The Hope Against Hunger Award issued December 2020
The Joe W. & Dorothy Dorsett Brown Foundation continued the matriculation of its Excellence Award program in 2020 and divided up the excellence awards into multiple categories. One of these categories – The Hope Against Hunger Award – was issued in December of 2020 to Beauregard Parish's own Artie Carhee Hickman for her dedication to the development of Soul Soup. Soul Soup, which also won the Greater Beauregard Chamber of Commerce's Non-Profit of the Year designation earlier in 2020, received a $10,000 award from the Foundation as part of the award. Soul Soup is an outreach ministry that provides dinner, everyday, free of charge to help those in the community who are experiencing financial burdens, low or fixed incomes or no incomes, no questions asked. Soul Soup enjoyed its tenth year anniversary in 2020 and has established dozens of partnerships throughout south-west Louisiana to further its mission under the tireless leadership and dedication of Artie Carhee Hickman. For more information, visit: www.gracederidder.org/soul-soup.
Kristi Trail, Executive Director at Ponchartrain Conservancy
Environmental Impact Award issued December 2020
In December of 2020, the Joe W. & Dorothy Dorsett Brown Foundation awarded Pontchartrain Conservancy Executive Director Kristi Trail with the inaugural Environmental Impact Award and issued a $10,000 grant to the Pontchartrain Conservancy. The funds will enable Pontchartrain Conservancy - a leader in coastal sustainability, water quality and environmental education for more than three decades - to continue its mission of driving environmental sustainability and stewardship through scientific research, education and advocacy. "I'm humbled and deeply honored to be the inaugural recipient of the Brown Foundation's Environmental Impact Award," said Trail. "As our region faces increasing environmental threats and challenges, we greatly appreciate the Foundation's support of Pontchartrain Conservancy's programs, which have never been as vital to Louisiana — and to the nation — as they are today." For more information, visit: https://scienceforourcoast.org.
Ouachita Parish Sheriff's Department
40th Judicial District Attorney's Office of St. John the Baptist Parish
Louisiana Leaders in Law Enforcement Awards issued September 2020

The Community Foundation of Acadiana hosted the inaugural Louisiana Leaders in Law Enforcement Awards on Thursday, September 10, 2020 in Lafayette, Louisiana at River Ranch. This is a project envisioned and fully funded by the Brown Foundation under our Excellent Award Program and implemented and operated by the Community Foundation of Acadiana. The awards, underwritten by us and presented by The Community Foundation of Acadiana, aim to bolster morale, increase respect for public service, acknowledge improvements in operations, and encourage extraordinary performance among Louisiana's sheriff's departments and district attorney's offices. We wish to honor those departments who are making the most positive impacts in their communities. This year's two recipients each received a $25,000 award to be used at their discretion to improve operations and continue to encourage extraordinary performance. Can you think of a deserving sheriff's department or district attorney's office in Louisiana? Let them know about this opportunity! The application process is made available by the Community Foundation of Acadiana. All sheriff's departments and district attorney's offices from around the state are invited and encouraged to apply. For more award information, visit: https://www.cfacadiana.org/leadersinlaw.
First of the two Leaders in Law recipients: Ouachita Parish Sheriff's Department received $25,000 because of their DMAC Program – Deputies Making A Change. The significantly successful DMAC Program is a mentoring program initiated to address the incarceration and school dropout rate among vulnerable male youth aged 9-18 in Ouachita Parish. This sheriff's department is showing young men how to change their lives and create success for themselves. For more program information, visit: www.opso.net/divisions/patrol/dmac.
The Second Leader in Law recipient: The 40th Judicial District Attorney's Office of St. John the Baptist Parish was recognized and also received a $25,000 award for implementing their impactful Opportunity Now collaboration. Through education and meaningful employment offerings, Opportunity Now serves as a Criminal Justice System diversion program for low-risk, non-violent, first-time offenders by fostering intervention that is accountable to effectuate successful outcomes for individuals getting back on the right path and avoiding a life of crime. District Attorney Bridget A. Dinvaut recognizes that crime prevention, restorative justice and rehabilitation programs are vital to the public safety and future of her community in St. John the Baptist Parish. We are excited to see what is in store for Louisiana Leaders in Law, year two! For more program information, visit: https://stjohnsheriff.org
Charles Johnson, Pastor at Way Maker Ministries
The Human Services Award issued September 2020
On September 8, 2020 The Joe W. and Dorothy Dorsett Brown Foundation issued its first ever Human Services Award to Pastor Charles Johnson of Way Maker Ministries. The Human Services Award is issued to one individual who personifies the displays of leadership, skill, ability and service in an exemplary manner. Pictured below is Pastor Johnson receiving his award. A $10,000 general support grant was issued to Way Maker Ministries to further support programming efforts. Throughout the COVID-19 crisis, Pastor Johnson demonstrated he values service to others above his own personal interest, even risking his own health on a day-to-day basis. He fights on the front lines, enabling perseverance for those with little. Since initial efforts commenced in 1990, under Pastor Johnsons leadership and direction, Way Maker Ministries has acquired dozens of certifications and specialized licenses to help those in need and has been one of the more flexible nonprofits in the Greater New Orleans area for disaster relief efforts. Serving as a Louisiana State Certified Emergency Shelter for Women, hundreds of people have sought refuge at Way Maker Ministries over the years while tens of thousands have received meals from the pantry and food services overseen by Pastor Johnson. Way Maker Ministries has run many camps and after school programs for disadvantaged children and even has support groups for children whose parents may be addicted to narcotics. The economic impact Way Maker Ministries has had in the Greater New Orleans community is challenging to measure but readily apparent in the sheer number of people they have helped obtain employment and the tireless efforts to help people reenter society or recover from addiction issues. For more information, visit: https://waymakerministries.wildapricot.org.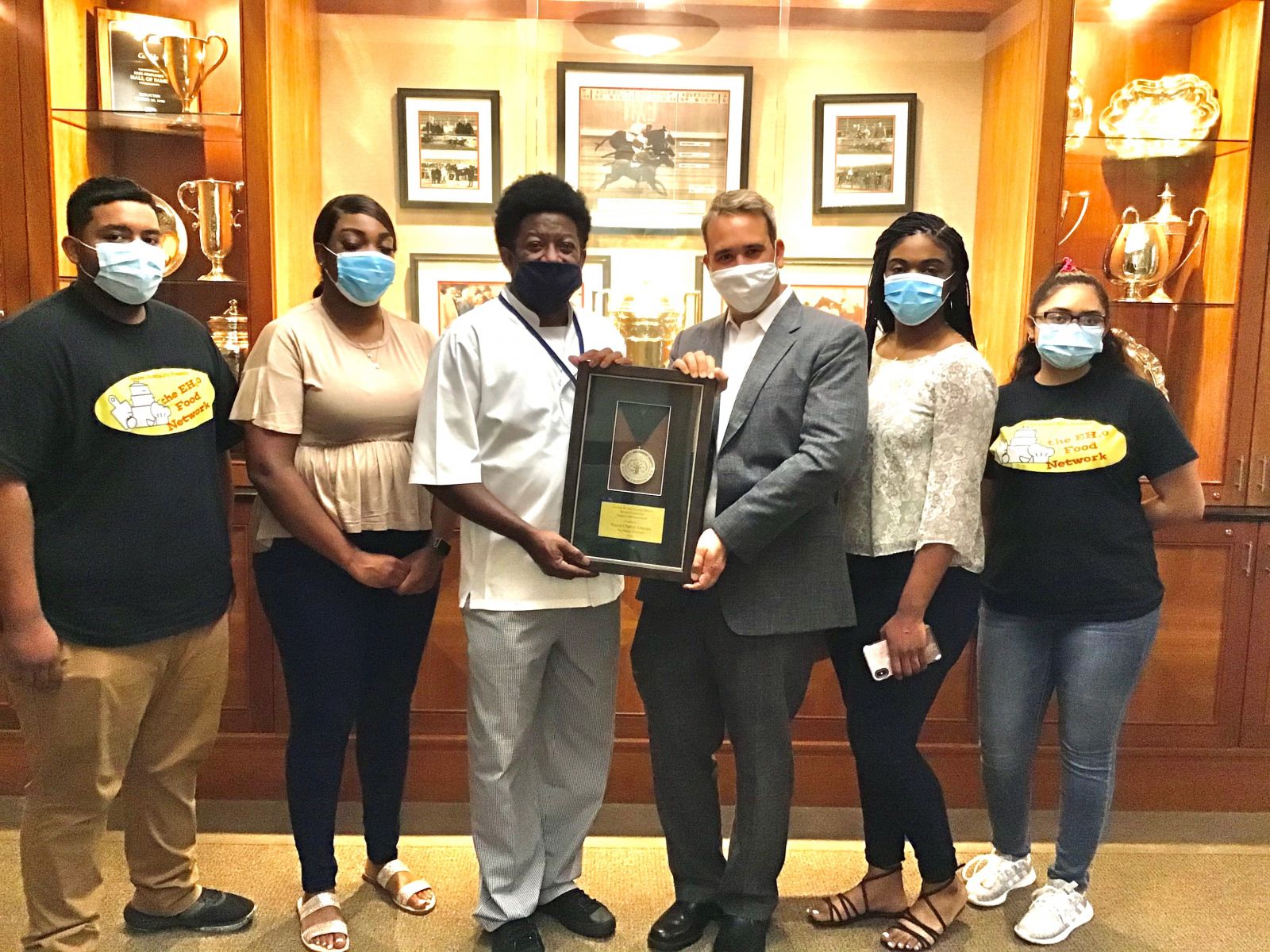 Burton and Denise Stigen at A City of Refuge
Excellence Award issued February 2020
On Tuesday, February 18, 2020 the Joe W. & Dorothy Dorsett Brown Foundation issued an Excellence Award to Burton and Denise Stigen. Mr. Stigen serves as Founder and Director of a Veterans homeless shelter in Southwest Louisiana. In addition to receiving the Excellence Award, the Stigen's accepted $10,000 in support of this charity they have tirelessly served. Nearly 35 years ago, in 1986, IR-MIKLATO MINISTRIES began. Named after a Hebrew phrase that translates to English as "City of Refuge" a shelter for the scorned homeless veterans of Vietnam was born. A City Of Refuge is a unique facility located in Southwest Louisiana and close to the Southeast Texas border. They are strategically located off US Interstate 10, approximately mid-way between Houston and New Orleans or Los Angeles and Miami. The shelter is for homeless veterans and also, when space was available, other homeless persons who could follow the military-style rules. A meal is always available for any needy and hungry person who might drop in. For Burt and wife Denise, they regard COR as their calling from God. Burt acquired the Shady Rest Motel property on old Hwy 90 in Vinton, LA in 1985 on a lease./purchase arrangement and began allowing homeless Vietnam vets to stay in the old motel rooms shortly thereafter. In 1999, Burt retired from plant work and used his accumulated retirement funds to pay off the mortgage. Improvement of the facility became a high priority in 2005 when Hurricane Rita devastated the old Shady Rest buildings, the property and other portions of the landscape and forced a concentrated redevelopment of the property which continues today. As an accredited 501(3)c tax exempt organization that relies entirely on private donations – mostly from individuals, church groups, civic groups and veterans organizations. First phase of the master plan for the five acres of land was construction of 10 cabins for housing. Those cabins have largely been completed through the efforts of those COR residents who are able-bodied as well as a variety of organizations, individuals and corporate grants. In the future, more cabins may be built on a different part of the property which would be designated for veteran families who come to the shelter from time to time. Information about the Facility: the facility is governed by its Director and Founder and his wife along with their Board of Directors and most importantly God. Currently, they have 13 sitting on the Board, consisting of former military, a retired Colonel, a minister whose two sons are military and their spouses. All rules are adopted by the Board of Directors and while lengthy and precise relatively easy for those who are serious about a change in their life to follow. Many residents arrive by referral, a phone call, the police, hospitals, prisons and even brought by others who have found the person alone, living on the street, walking down the road, in a soup kitchen, at their church, or who just stopped to inquire if they knew somewhere they could go. Some stay for a brief period, and some stay for an extended period of time. There is no time limit, although 7 days is often limited to those who are not Veterans and fail to adhere to the rules or have family members where they can go. No matter what the reason, we believe that no one comes to City of Refuge by accident but by Divine direction. All are treated equal and there is no discrimination. Because of the need for a larger facility we have been diligently seeking resources to make this a reality and to broaden the scope of what we do to help the Veterans and others. This award recognizes individuals who have given a substantial part of their life to make this world a better place through either founding or leading a charity that has had a longstanding and recognizable impact. For more information on IR-MIKLATO Ministries, A City of Refuge, please visit their website at: http://acityofrefuge.org.
Michael Hecht, President & CEO at Greater New Orleans, Inc.
Community Crisis Leadership Award issued August 2020
On Monday, August 17, 2020 the Joe W. & Dorothy Dorsett Brown Foundation issued the first Community Crisis Leadership Award to Michael Hecht. This specific excellence award is intended to identify and recognize an individual who has guided a community in Louisiana through a crisis with sophistication, reason, calmness, benevolence, and a tireless dedication to pushing through challenges. Mr. Hecht showed great dedication in leading the New Orleans MSA through the ongoing pandemic crisis. Weekly reports throughout 2020 were one of the few places where concise information could be found that was regularly updated with timely, credible, and actionable information that people and businesses needed. A check for $10,000 was issued to GNO, Inc. to further its charitable purpose: Greater New Orleans, Inc. is the regional economic development nonprofit organization serving the 10-parish region of Southeast Louisiana that includes Jefferson, Orleans, Plaquemines, St. Bernard, St. Charles, St. James, St. John the Baptist, St. Tammany, Tangipahoa, and Washington parishes. Their mission is to create a region with a thriving economy and an excellent quality of life, for everyone. The ultimate indication of our success will be the presence of a robust, accessible, and growing middle class in Southeast Louisiana where our children and grandchildren can live and prosper. For more information, visit: https://gnoinc.org.
Thomas J. Kennedy, M.D. Vice President at New Orleans Medical Mission Services
Excellence Award issued December 2019
The Brown Foundation closed its 2019 giving in December with the issuance of an Excellence Award to Thomas J. Kennedy, M.D., Vice President of New Orleans Medical Mission Services (NOMMS). Dr. Kennedy embodies everything that we look for in a candidate for an Excellence Award - Dr. Kennedy is a pillar of the community, has led by example, and has made a measurable impact in operating a charity at a truly elite level. A New Orleans native and retired OBGYN, Dr. Kennedy has gratuitously served on the board of many hospital bodies throughout his professional career, constantly driving more volunteer work from his constituents and peers. NOMMS serves the underprivileged peoples of foreign countries by providing medical expertise, treatment, services, education, equipment, and supplies. They elevate the dignity and self-esteem of recipients and participants through a network of volunteers which includes doctors, nurses, medical and non-medical professionals. NOMMS is active in Louisiana as well as NOMMS coordinates the donations of millions of dollars of valuable supplies for educational use and to help animals in Louisiana, Mississippi, and Alabama. In addition to the Excellence Award, New Orleans Medical Missions received a $10,000 grant in Dr. Kennedy's honor, bringing the Foundations total support for NOMMS to $512,000 since 2006! For more information, visit: https://www.nomms.org.
James R. Kelly, Founder and Executive Director at Covenant House New Orleans
Excellence Award issued October 2019
We could not be prouder to issue an Excellence Award to James R. Kelly on October 10, 2019. Mr. Kelly is an easy selection to receive this award. He has devoted his life and career to making this world a better place through serving the suffering children of the street. Mr. Kelly founded Covenant House New Orleans in 1987. In 2011, he returned to Covenant House as Executive Director. In the past forty years, Mr. Kelly has worked in ministries that serve the poorest and most vulnerable members of our society. Mr. Kelly is the past Co-President of Catholic Charities of New Orleans. The organization played a major role in the community's relief, recovery, and rebuilding efforts following Katrina. Mr. Kelly serves on many local Boards of Directors and has testified before numerous Congressional Committees. In addition to the Excellence Award, the Foundation issued a $10,000 grant in Mr. Kelly's honor to Covenant House, bringing the Foundations total support to Covenent House through year end 2019 to over $650,000. For more information, visit: https://www.covenanthousenola.org.
Coach Melvin R. Howard, Executive Director at Victories in Service
Excellence Award issued September 2019
During the service learning ceremony, we took the opportunity to present a special award and scholarship in honor of an outstanding partner of the Foundation. Coach Melvin R. Howard of Victories In Service received the second (ever!) Joe W. and Dorothy Dorsett Brown Foundation Excellence Award. The Foundation launched the Excellence Award program earlier in 2019 to recognize individuals who have become synonymous with the mission of the charity they have led for a significant portion of their life. Coach Melvin is the ideal embodiment of this award as his service to others to make this world a better place through leading Victories in Service has had a recognizable and transformative impact on inner city New Orleans. The Victories in Service program uses sports and sportsmanship to redirect the mindset of underserved youth in the upper and lower ninth wards and throughout inner city New Orleans and strives to encourage children to be dedicated in their work habits and to become productive members of and engaged in society. In honor of Coach receiving our Excellence Award, the Foundation issued the medal of excellence (shown in the photos) and Victories In Service received a $10,000 check in support of its programming. Further, we are honored to have issued a $20,000 scholarship in Coach Melvin's name to Southern University of New Orleans, where Coach Melvin played baseball. Great work, coach! For more information, visit their website.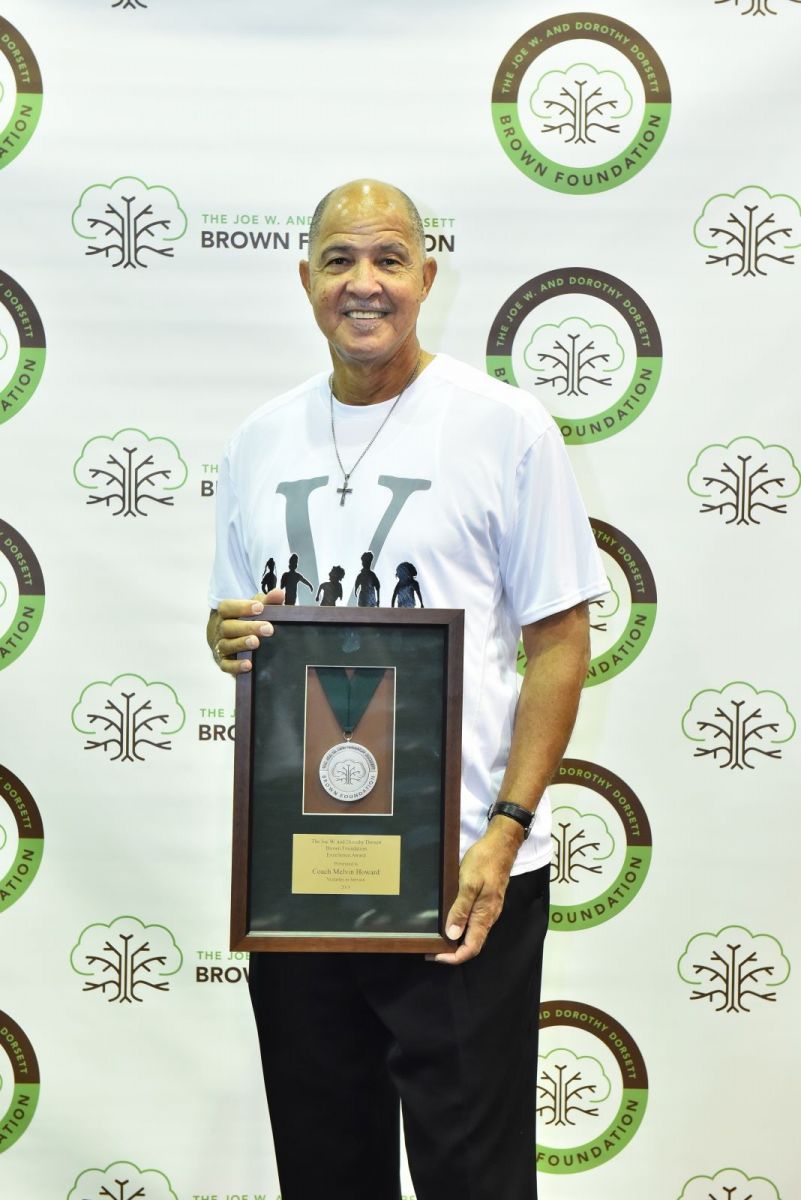 Dan and Jackie Silverman at New Orleans Women and Children's Shelter
Excellence Award issued August 2019
On August 5, 2019 the Joe W. & Dorothy Dorsett Brown Foundation launched the Excellence Award Program. This three year program is designed to recognize individuals who have given a substantial part of their life to make this world a better place through either founding or leading a charity that has had a longstanding and recognizable impact. Winners of this award will receive a framed medal and a grant check for $10,000 made out to the charity they have tirelessly served. The Foundation is deeply honored to have Dan and Jackie Silverman as the first ever winners of the Excellence Award. Their relentless work from 2006 through the present day at the New Orleans Women and Children shelter is an inspiration to everyone. To meet the needs of vulnerable people in our community, the New Orleans Women & Children's Shelter is open 24 hours a day, 7 days a week and consistently operates at 90% capacity or higher. Innovation, dedication, perseverance, and sophistication are all words that can describe the management and leadership style of Dan and Jackie. Dan and Jackie have helped keep families together and give hope to not just those specific families they serve but all of us in this community. For more information on the New Orleans Women and Children Shelter and the relentless efforts of Dan and Jackie, please visit their website at: https://nowcs.org.